Martis Map Editor. A program to create and edit geographical Maps.
FeaturesTop
Create new Maps for your Garmin® device.
Load and Save Maps in Polish Format, OSM XML, MapInfo MIF and TAB, ESRI shape, OziExplorer MAP and its own XML-like file format.
Load and Save Tracks, Routes and Waypoints in GPX format and KML.
Can read other file formats, like OpenStreetMap PBF, Garmin Map Index (TDB), Garmin GPS Database (GDB), Digital Elevation models (DEM), and TomTom (OV2) files.
Download and import Maps from OpenStreetMap.
Merge multiple files, even with different file format, into one big file.
Compile the map to a Garmin IMG file using cGPSmapper and/or mkgmap with just one click.
Capture position data from a connected GPS device using the Garmin protocol via USB and COM and NMEA via TCP/IP, COM and File. Automatically records the track in given interval and/or distance.
Simulate GPS position data.
Act as TCP/IP server and send position data in NMEA format to connected clients when tracking is active.
Polyline and Polygon simplification using the Douglas Peucker Algorithm.
Route finding using the A* algorithm.
Other advanced algorithms like line fitting, averaging lines, removing Jitters, collinear points etc.
Unlimited Undo/Redo, System Clipboard and all other usual editing functions.
Edit maps just like as in other vector graphics programs.
Generate contour lines from DEM (Digital Elevation Model) files and create a color map from DEM files.
Vectorizing raster Bitmaps.
Batch edit maps with the SQL interface for editing/querying maps like a SQL database.
Download Timezone information for shapes from GeoNames.
Export the map to different pixel and vector graphics formats, and print the map to a printer.
Sophisticated search engine.
Validate Maps to find common pitfalls.
Support for Garmin Levels and Layers as found in other graphics programs.
Scripting with Lua and an Editor with integrated Debugger.
API with SDK to extend and customize the Program.
Sophisticated and comprehensive Help System with Context Help. Hitting F1 brings you always to the closest matching Help Topic.
You're completely free how to arrange all the windows and you can even save the window layout, called Desktop.
RequirementsTop
A Computer with an Intel compatible processor. Recommended is a dual core processor (e.g. Intel Core 2 Duo) since Martis can utilize multiples cores.
32- or 64-Bit Windows XP with at least Service Pack 3 or later. 64-Bit Windows is recommended, because Martis can use then more memory.
Depending on the map you're going to create and edit, Martis may need quite a lot of memory. I recommend at least 2 GB of RAM, but better is – of course – 4 GB.
A Mouse with three (left, middle and right) buttons.
Installation size is about 31–62 MB.
The DirectX 9 enduser runtime libraries are required.
ScreenshotsTop
Default window layoutTop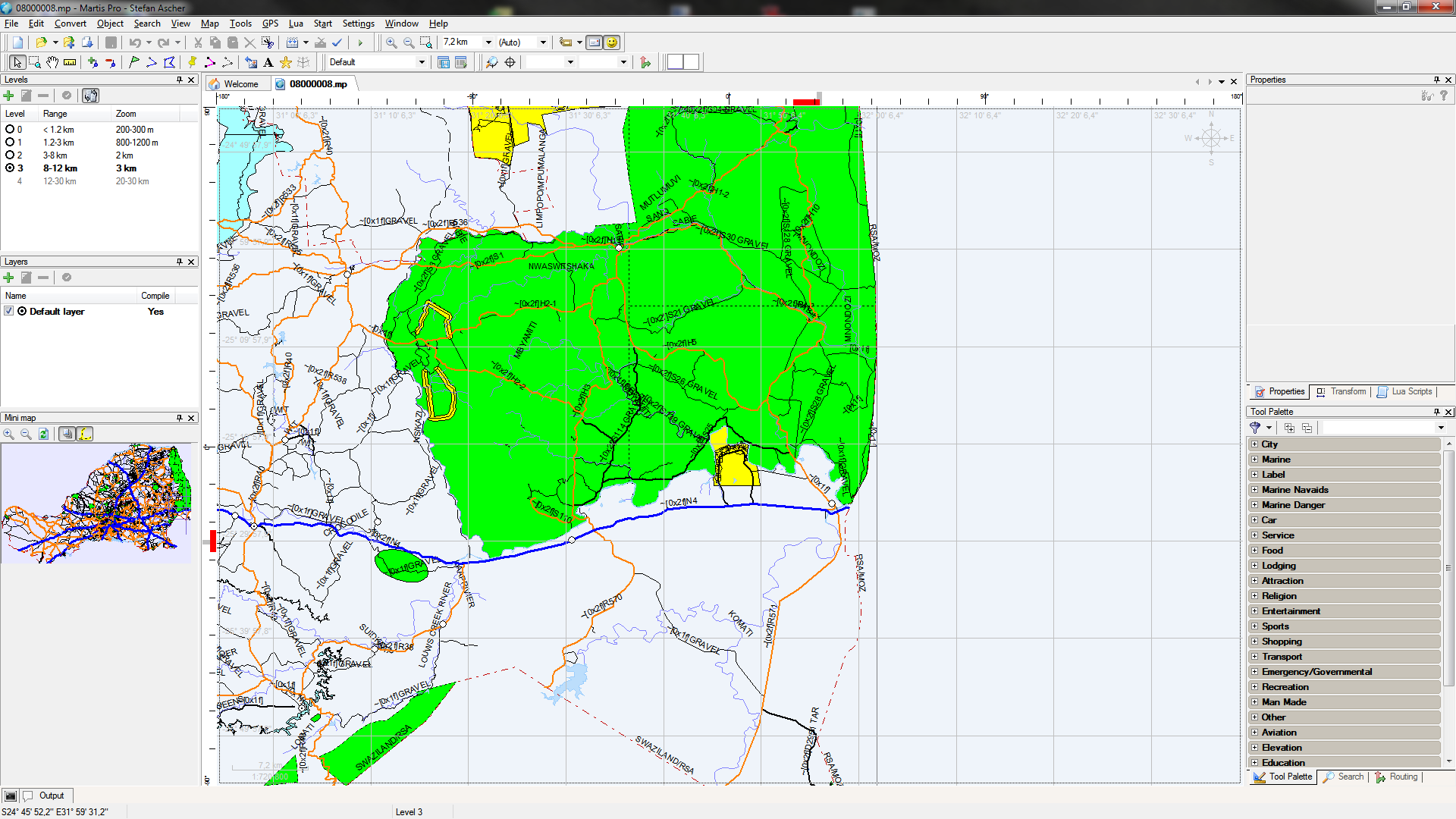 Navigation window layoutTop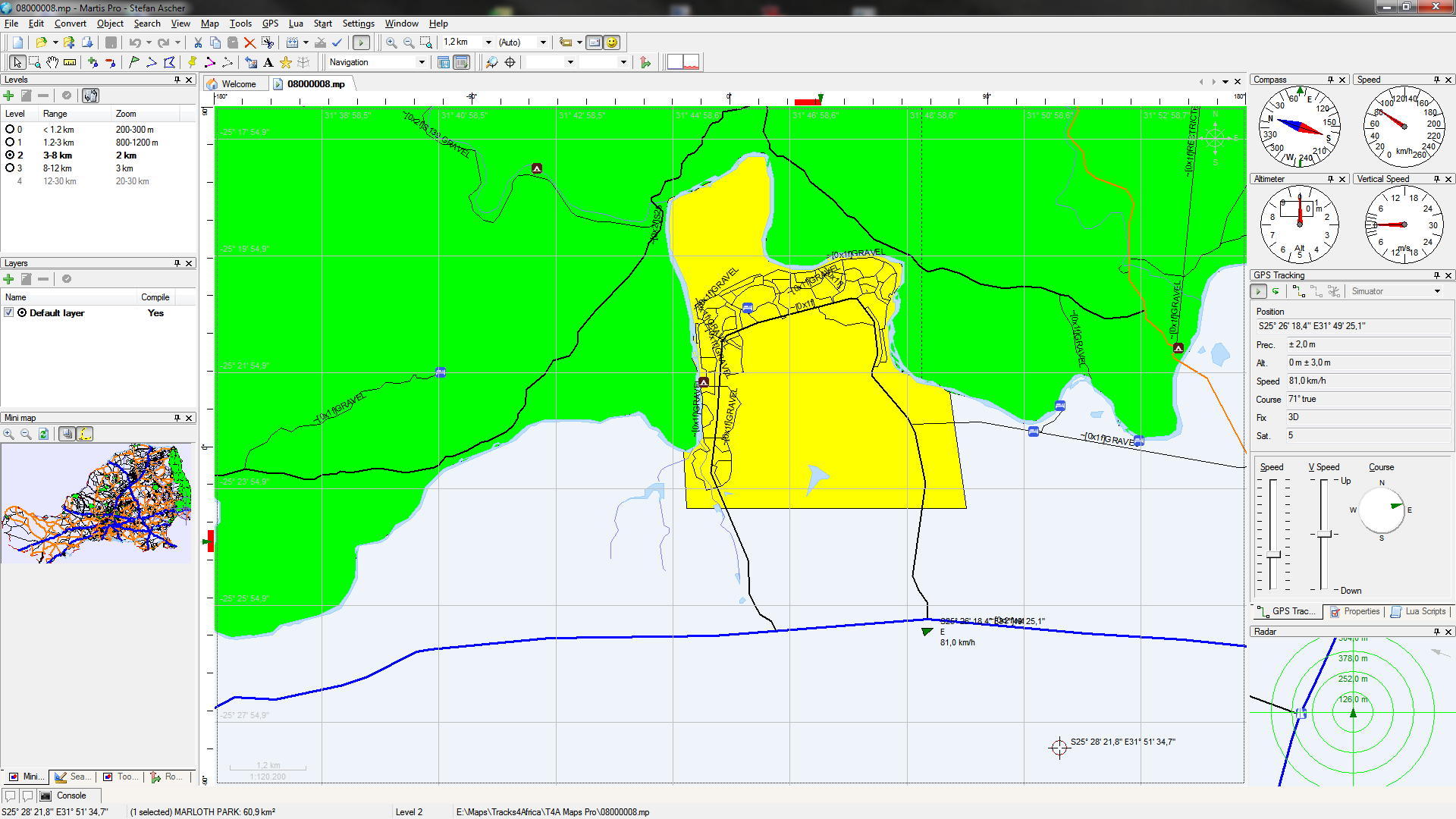 Bitmap vectorizationTop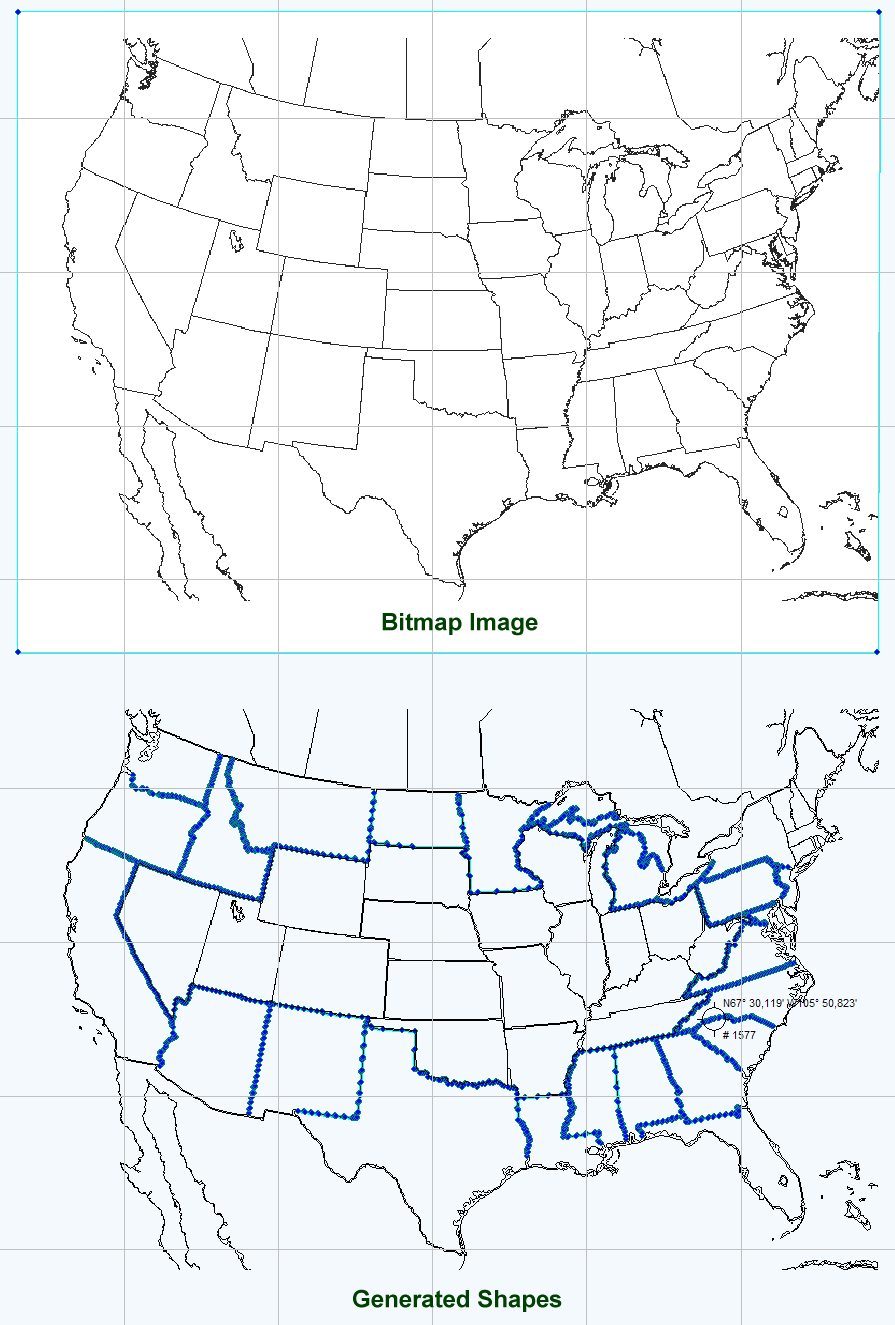 DEM (Digital Elevation Model) file supportTop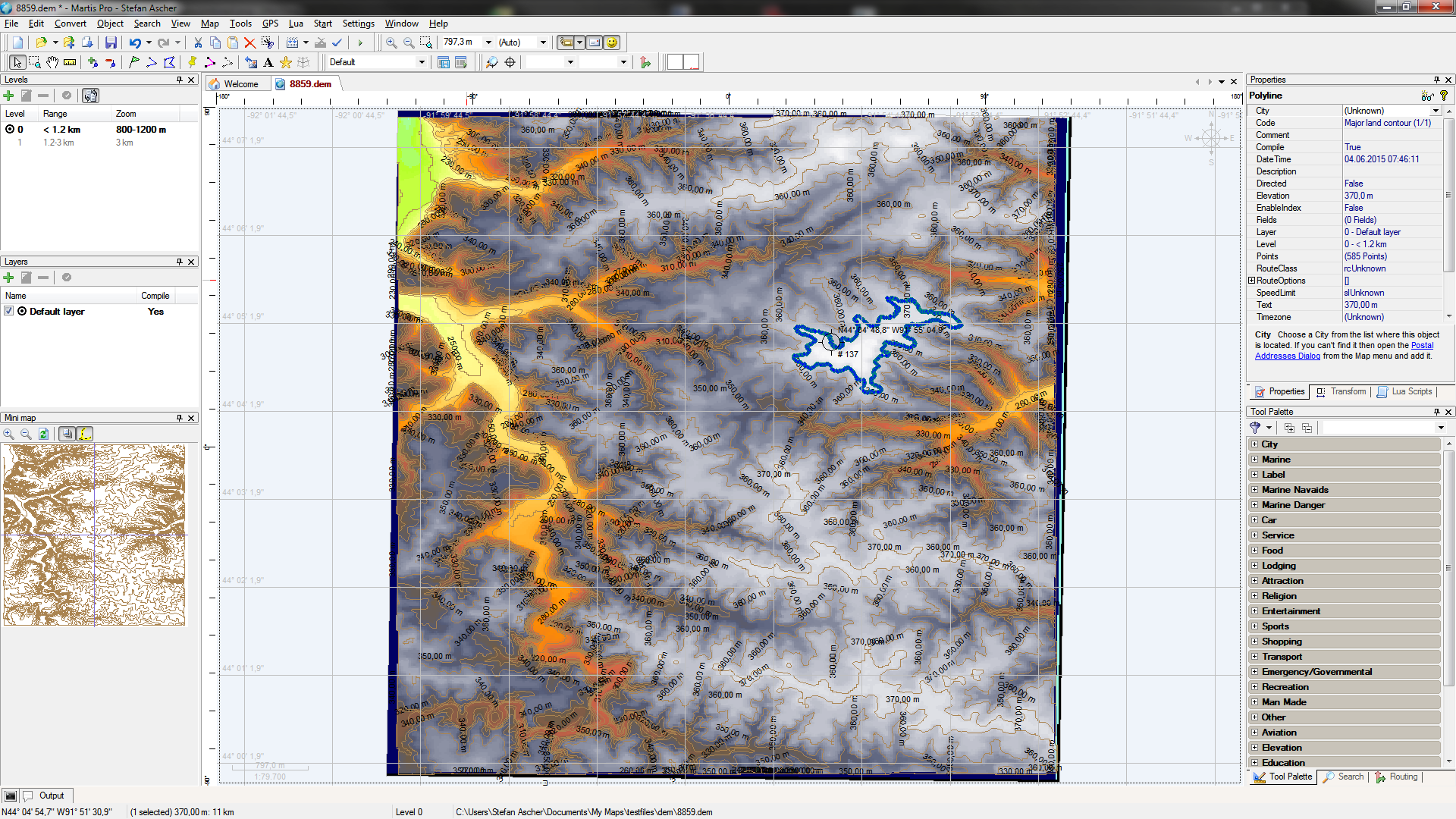 Debugging a Lua ScriptTop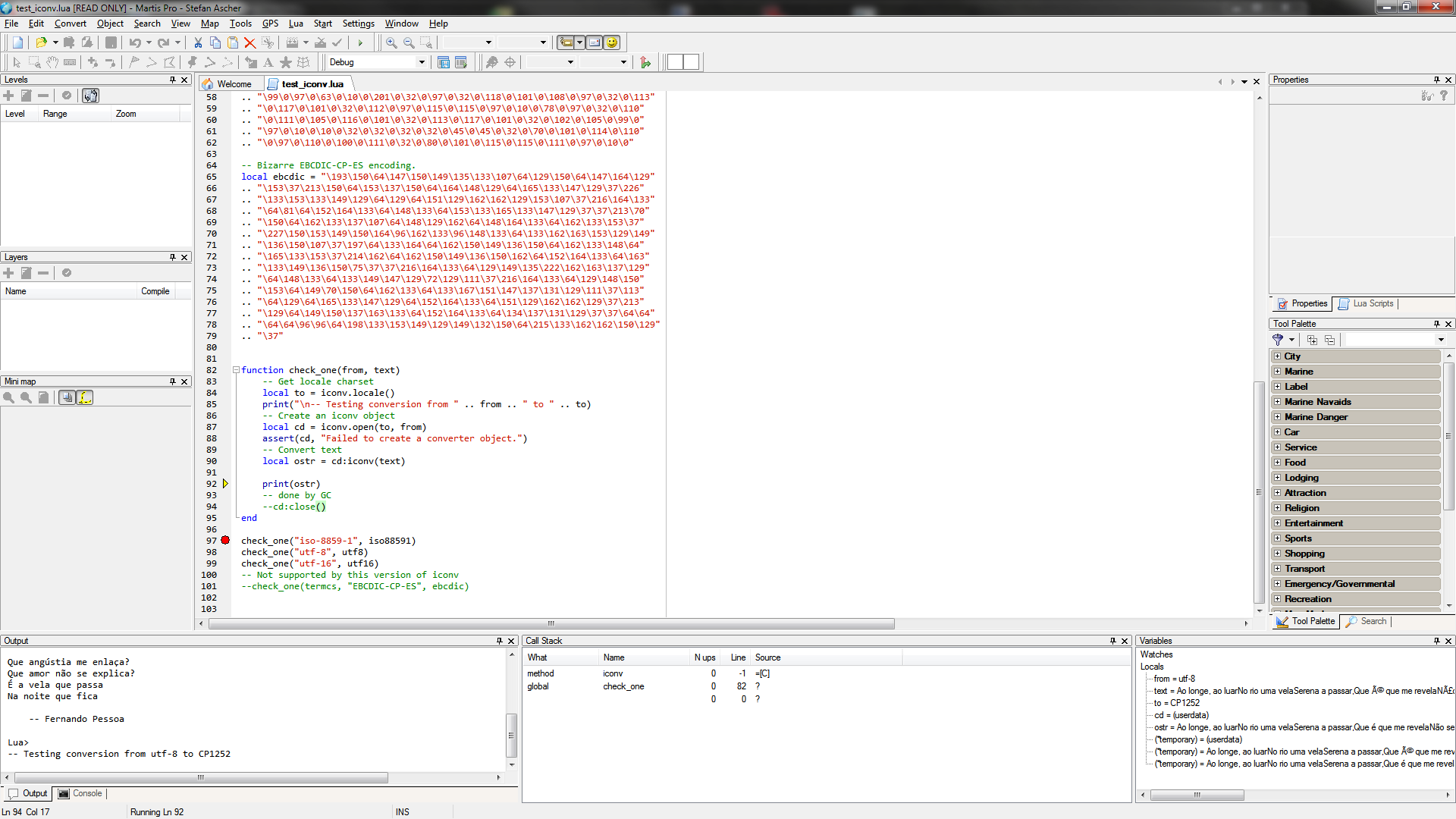 Suppport for multiple ScreensTop

CompilingTop
You don't want to do this! However, try the following:
martis.exeTop
Create a VM with Windows XP
Install Delphi 5 with Update Pack 1
Download/clone all the sources (may take a while)
Install all components in .\comps and .\MapDraw
Run _dcc32.bat or open martis.dpr and click Compile or Build
If you compile from the commandline, you do not need to install the components.
With a lot of luck and some patience you'll get a new martis.exe file.
Lua4M.dllTop
Install Microsoft Vinsual C++ 2010 (Express). Later versions may or may not work.
cd to sdk\ai\lua4m
Run: MSBuild.exe lua4m.sln /t:Rebuild /p:Configuration=Release
There are some other projects that needs to be compiled for a setup program, see 00build.bdx.
Download InnoSetup
Open .\setup\martis.iss
Click the Compile button
If you wonder what to do next, here is a short list:
Port it to a more recent version of Delphi.
Unicode support
64 Bit build
SQL parser/interpreter is buggy
Use OpenGL as renderer to increase rendering performance, see MapDraw\uMDCanvasOgl.pas.
I'm currently working on a XE3 port of MapDraw and Unicode is slowly coming: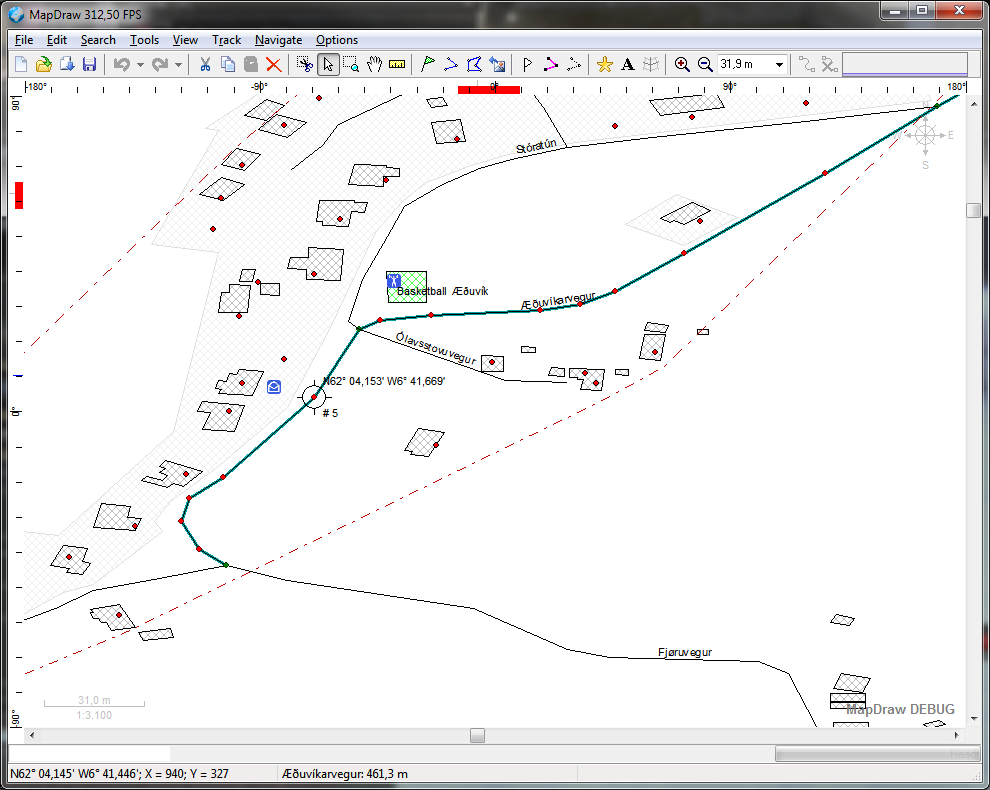 It will be hard to port Martis to XE3 since key components won't install in XE3.
MapDrawTop
MapDraw is a component suite for rendering and drawing geographical maps. This component is the core of Martis. It is located in the MapDraw subdirectory. There is a package for D5 (MapDraw.dpk) and D7 (MapDraw_D7.dpk) and a test project (Project1.dpr). After installing in Delphi, there should be a new MapDraw Tab with around 60 new components.
It provides components and classes to (1) render and edit maps, to (2) load and save maps in different formats, to (3) interface with GPS devices.
See the test project how to use it.
DownloadTop